SyncServer S200 High performance GPS network time server – Enterprise class
Microsemi high-performance SyncServer S200 is ready to support the expanding technological requirements of large enterprises, ready to protect the integrity of valuable records.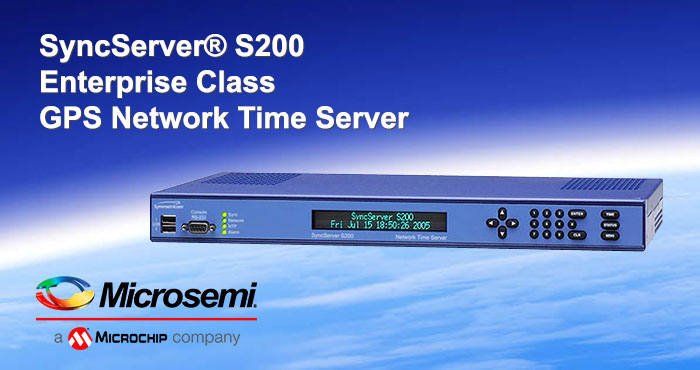 The SyncServer S200 is being discontinued.
The replacement model is the new SyncServer S80 or SyncServer S600.
SyncServer S200 
High Performance, Enterprise-Class GPS Network Time Server As Next Generation IT networks grow larger and faster, the need for an accurate, reliable and secure time becomes more critical.
Security concerns, VoIP deployments, and new regulations all force organizations to pay the strictest attention to their records and operational performance.
These requirements make high performance and flexible network time servers essential for the integrity of network log file accuracy, billing systems, electronic transactions, database integrity, VoIP quality, and many more essential applications.
Microsemi high-performance SyncServer® S200™ is the first GPS Network Time Server that is Next Generation Ready.
Ready to support the expanding technological requirements of large enterprises, ready to protect the integrity of valuable records.

Specifications
Stratum 1 operation via GPS Satellite



Stratum 2 operation via NTP Servers



IPV6 and IPV4 compliant

Secure web-based management



Three independent 10/100BaseT ports



SSL, SSH, SNMP v3, custom MIB
Many, many more features