Next Generation ready GPS Network Time Server – SyncServer S250
SyncServer S250 is a GPS NTP server with multiple and versatile timing configurations. It provides ultra precise time and frequency outputs and redundant back-up, essential for Next Generation IT networks.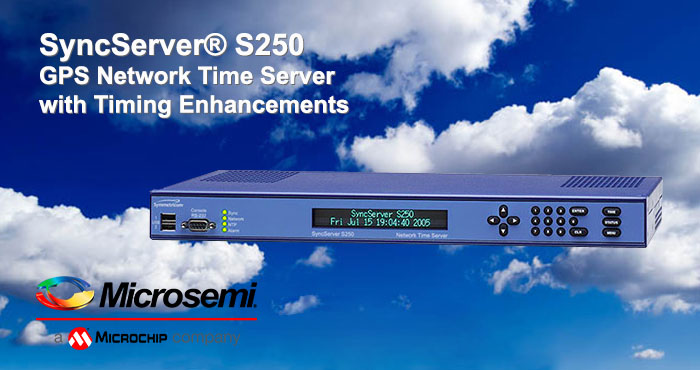 The SyncServer S250 is being discontinued.
The replacement model is the new SyncServer S650.
Ultra Precise & Versatile GPS Network Time Server
Next Generation IT networks require network time servers that are versatile in their ability to provide ultra precise time.
The larger and faster they grow, the more they need accurate, reliable and secure time.

Sokoldalú időzítő konfigurációk
The SyncServer® S250 GPS Network Time Server provides the needed time synchronization that assures the integrity of network log file accuracy, security protocols, billing systems, electronic transactions, database integrity, VoIP quality, and many more essential applications.

Microsemi SyncServer® S250™ is Next Generation ready
Ready to support the expanding technological requirements of large enterprises


Ready to protect the integrity of valuable records


Ready to provide ultra precise time and redundant back-up
What separates the SyncServer S250 from the SyncServer S200 is that it can automatically synchronize to GPS, IRIG-B, 1 PPS, and 10 MHz references in that priority. It can also output IRIG-B, 1 PPS and 10 MHs signals.
No other time server in the world offers that combination of redundancy and precision while still managing flexible, accurate, reliable and secure network time synchronization for the ever-demanding high-bandwidth Next Generation network.