MHM 2020 Active Hydrogen Maser
Capable of achieving <3 × 10-16 daily drift rates along with improved environmental stability, the MHM-2020 has been designed for applications requiring extreme frequency stability and low phase noise.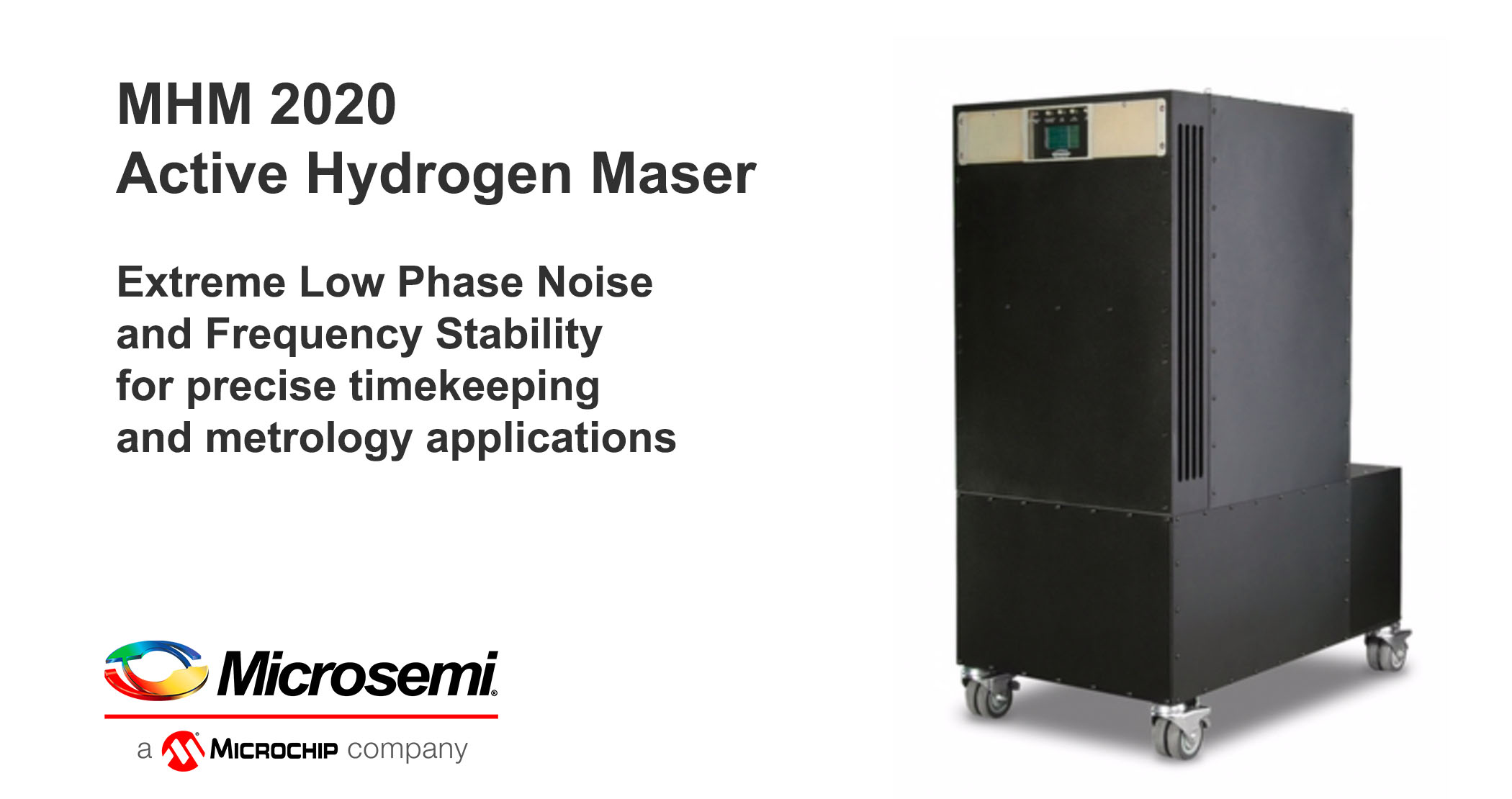 Hydrogen Masers operate on the principle that hydrogen atoms, in the proper environment, emit microwaves at a precise frequency (1420405751 Hz). This is the well-known atomic hydrogen wavelength of 21cm.
Extreme Low Phase Noise and Frequency Stability for precise timekeeping and metrology applications. 
Expanding upon the heritage of the world's most widely installed active Hydrogen maser, the Microchip MHM-2020 has enhanced the unique Auto-Tune design of the MHM-2010 by re-engineering the electronics and software to attain even better stability.
Capable of achieving
Designed, manufactured and tested in the USA with an eye toward long service deployments, 95% of Masers built at Microchip's dedicated Maser facility since 1999 are still in operation. Each MHM-2020 is manufactured to meet stringent quality standards and undergoes extensive performance verification testing, prior to deployment.
Auto-Tune with Drift Compensation 
The MHM-2020 incorporates an automatic frequency control system to maintain the resonant cavity at a constant frequency relative to the hydrogen emission line. This technique enables the Maser to deliver long-term stability that is only attributed to the most stable cesium atomic standards.
Now, by pairing this technology with the new integrated Drift Compensation software, daily aging rates of
Improved Environmental Sensitivity 
The Maser is designed to withstand variable voltage, temperature and magnetic field environments. By carefully selecting electronics and controlling the manufacturing process, each MHM-2020 is designed to achieve a Temperature and Magnetic Field sensitivity of
Outputs 
The MHM-2020 provides multiple 5, 10, and 100 MHz outputs and 1PPS. Multiple configurations can be ordered to optimize for varied applications.
Low Phase Noise Output Option 
The MHM-2020 can be factory configured with low phase noise outputs that enable higher resolution measurements in VLBI applications.
Low lifetime cost of ownership, maintenance free operation 
Lifetime cost of ownership for active masers is a critical consideration. The MHM-2020 is designed for long life and low maintenance. The hydrogen supply is adequate for over 20 years of operation. An efficient hydrogen state selector minimizes the load on ion pumps (< 0.01 mole per year), and the pumps themselves are designed for greater than 20 year life at nominal hydrogen flux. The TeflonTM bulb coating virtually eliminates any re-coating requirement and has a demonstrated life of over 20 years. Should it be required, the MHM-2020 is designed for on-site module replacement. 
Key Features
Telemetry monitoring via Touch screen and secure Ethernet
Dedicated keypad or USB/serial port (secure) allow flexibility in instrument control
Drift compensation mode enabling drift as low as
Low hydrogen usage for extended maintenance-free operation and Demonstrated lifetime of greater than 20 years
Internal Time-of-Day clock for internal data time stamping
1PPS synchronization option for precise calibration to GNSS
Multiple 1PPS and RF output options (5, 10 or 100 MHz)
Low phase noise option
Battery back-up 
CE compliant