L1 GPS Antenna Down/Up converter
The L1 GPS Antenna Down/Up Converter may also work with non- Microchip (Microsemi, Symmetricom) L1 GPS receivers. The signal output from the converter is L1 C/A code that can be decoded by any L1 GPS receiver.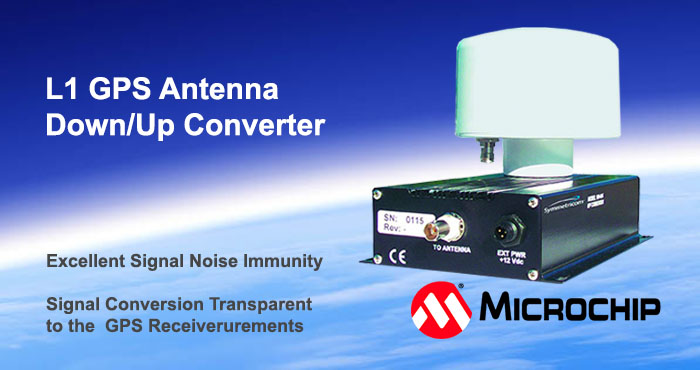 GPS signal down/upconversion is required when signal losses in the antenna cable limit the distance between the receiver and the antenna assembly. At just over 250 feet (76 meters) in cable length, the benefits can be realized using a Down/Up Converter assembly versus the use of low loss cable and amplifiers. Signal strengths and noise immunity, as well as the cost benefits over the use of low loss cable and amplifiers, are the main advantages of using the Antenna Down/Up Converter assembly.
The down converter antenna and up-converter unit replace the standard L1 GPS antenna. Power for the system is provided by the GPS receiver or an optional external power supply. The down/upconversion process is transparent to the GPS receiver. As with any precision timing GPS receiver, only cable delay and down conversion delays need to be entered into the receiver.
The Down/Up Converter may also work with non- Microchip/Microsemi/Symmetricom L1 GPS receivers. The signal output from the converter is L1 C/A code that can be decoded by any L1 GPS receiver. Since the Down/Up Converter can be externally powered, L1 GPS receivers that can interface to the Down/Up Converter BNC connector should be able to use the signal. However, note that the Down/Up Converter introduces latency in the signal in addition to cable delay. For precision timing applications the receiver must be able to account for these factors.

Key Features
Increases Antenna Cable Length Up to 1500 ft. (457 meters)

Excellent Signal Noise Immunity

Signal Conversion Transparent to the GPS Receiver

Eliminates Need for Cable Amplifiers